Keeping teeth fresh and healthy
Dental Check Up & Clean Penrith
Need emergency dental? Call for a same day appointment.
Dental Check Up, Clean & Polish in Caddens, Penrith - only $129
Your regular dental check up in Penrith is only $129 at The Caddens Dental Bar.
Our 'clean and polish' includes a professional check-up from our highly experienced dentists plus a clean, polish and x-rays (if needed).
The Caddens Dental Bar Experience
Enter the gorgeous Caddens Dental Bar and relax in our comfortable lounge room.
Smell the candles and be served with coffee or tea on arrival. Our practice is warm and inviting – we try to make it just like home.
Sit back, relax and listen to some music as you enjoy a break from your busy day.
We care about providing exceptional patient care and our team will make your experience as relaxing and comforting as possible.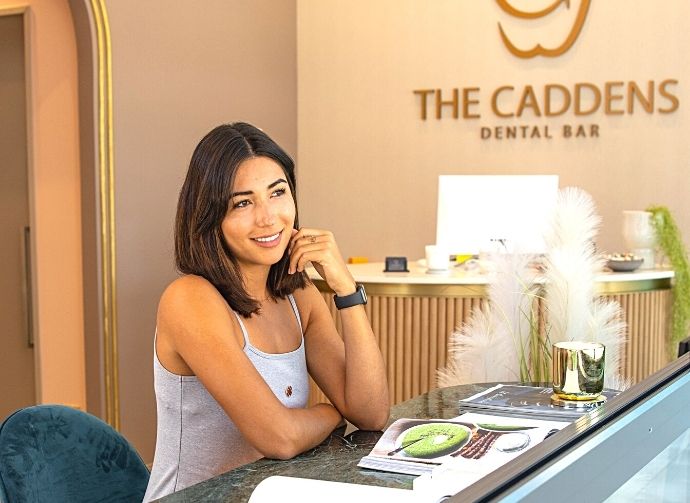 Comprehensive clean & exam
Our dentists firstly perform a comprehensive dental examination to help identify any possible conditions or infections which may trouble you in the future.
Next, we'll remove the build up of tarter and plaque which can contain harmful bacteria and perform a deep, professional clean and polish – getting into all the hard-to-reach places. This will leave your teeth feeling super clean and fresh. This is followed by a fluoride treatment which gives teeth strength and prevents the build up of plaque and tarter.
Finally, we'll provide you with some oral hygiene tips which are tailored for your individual lifestyle and schedule.
The Caddens Dental Bar $129 check-up, clean and polish is just what you need roughly every 6 months to keep your teeth feeling fresh, clean and healthy.
Private Health Insurance - No Gap
Pay 
NO GAP
 when you use an approved health fund.
We use HICAPS which means you can claim on the spot for your instant health fund rebate.
With the cost of our dental check-up in Penrith at only $129, you'll save heaps on dental costs and have plenty of cover left for when you need it most.
Check-up, clean and polish.
One of the most important things you can do to maintain oral hygiene is a regular visit to a dentist. That's why we recommend a regular dental check up roughly every 6 months.
Removing tartar or calculus can only be done by a dentist. Also, having a professional regularly assess your oral hygiene can treat problems early and avoid more complicated and expensive treatment later.
The Caddens Dental Bar offers the best in
children's dentistry
in Caddens, Penrith. We are a fun and friendly kid's dentist and we love making your kids smile. Children aged 2 to 17 years who are eligible for Medicare may receive access to the Child Dental Benefits Scheme (
CDBS
).